KULTUR & NÖJE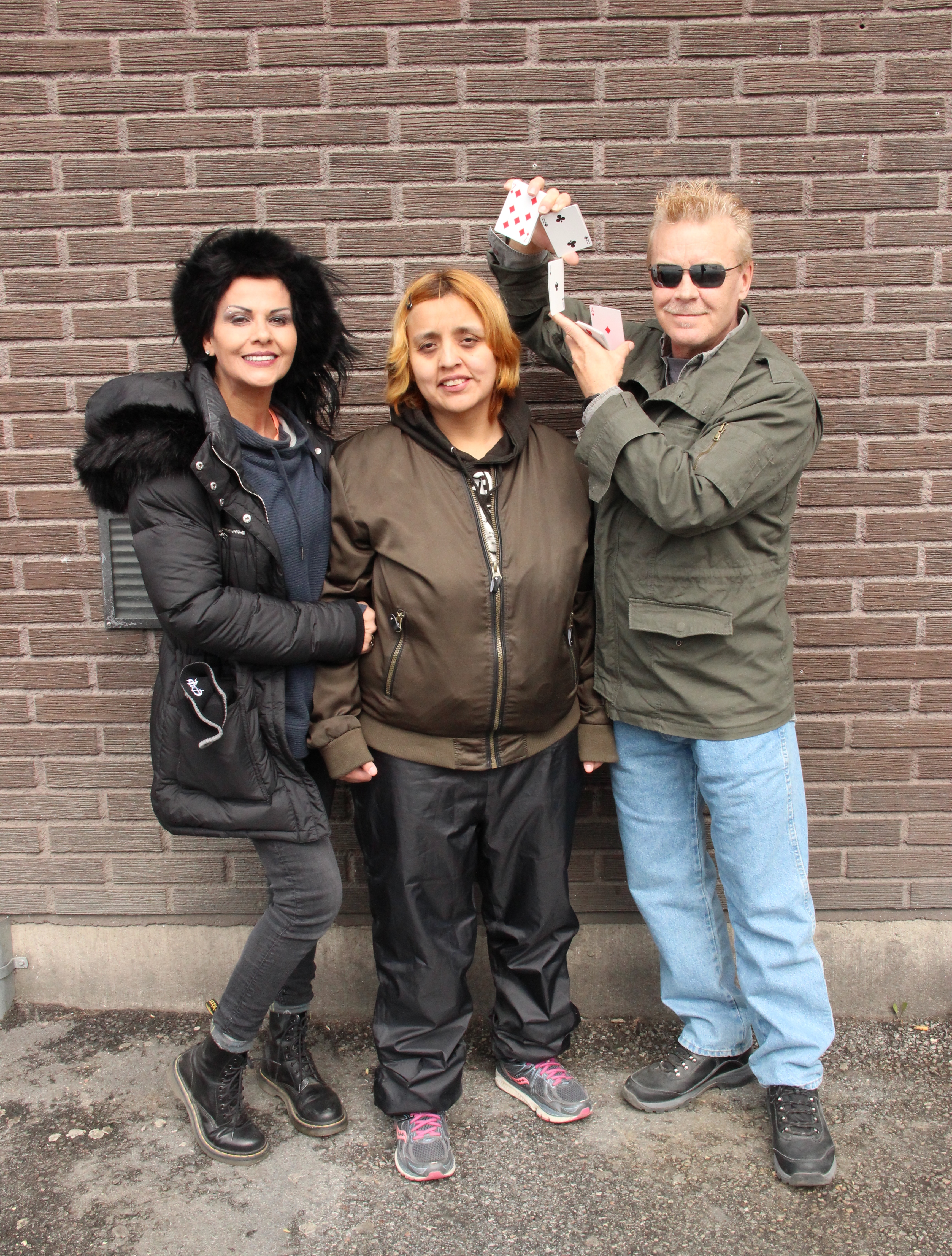 Richard Burr
Intervju med en magiker och hans fru.
Text: Erica Westerlund
Foto: Christopher Lundgren
Namn:

Richard Burr

Född

:

March 5 1960

Yrke

:

We are international masters of magic and illusions, my wife Josette and I.

What started your interest in magic?
When I was a little boy, nine years old, a teacher in the school that I attended, used magic to help motivate students, and I became interested in watching him perform magic.
For how long have you been a magician?
I started when I was a little boy, when I was nine years old. I used magic all through my life, to put me through school, then I met Josette about 26 years ago, and we opened a magic business performing, and then we started perform on international cruise ships, and international casinos around the world, since many years.
How often do you perform?
Well, all the time. Right now we are very excited to be with Viking cruise Lines (Viking Line) and we do shows every night while we are here, we are here until June 10th, and then we will be back, we are excited to announce, that we will be back November and December with Viking Lines Mariella.
November 2 to January 1.
We'll be here for the holidays. Come party!
Apart from magic do you work with something else?
Well, magic relates to a lot of different things we just finished the Japanese magic television show, we do a lot of work with other magicians in at home in California, helping them designing create their shows. Josette works very closely with costume and music, so really magic relates to a lot of theatrical work we do.
Yes, its like our platform, but we have many facettes of it, we hold magic meetings once a mounth for all the magicians, its a private meeting club for them to share information and share ideas, perform for eachother, and also we've done anti drug, anti gang magic and illusion show for our community. So we use magic through the different arts of life, and work that with a magic castle in Hollywood, California.
So really, everything we do is about magic.


So great. I love magic.
Me to.
But I can't do magic myself.
That's alright. You know about magic, everybody can learn how to do a magic trick. It's universal.
What is the coolest magic trick you have done?
The coolest magic trick I have done is meeting my beautiful wife, and talking her into marrying me, and a wonderful child, a daughter.
Oh so great. Children is magic.
Yes!
What is it like performing on Mariella?
We really enjoy performing on Mariella. We been to both Finland and Sweden many times before, but this gives a so wonderful opportunity to meet and speak with the people and get to know the people. Everybody on Viking cruise boat Mariella and Gabriella we'll be on. Everybody with Viking cruise Lines are very nice and friendly with us and help for with the shows, so we are excited and happy to be here.
What is it like being in Sweden?
We love Sweden, I love Sweden. We came here 16 years ago and I fell in love with it. On a different cruise line, but we were here for the summer, and we had our daughter with us, she's grown now and moved out. We've travelled around the world on cruise ships, and I'd say the Baltic and Sweden, is our favourite cruises.
We love Sweden because it's wonderful walking city. You can walk and explore everywhere.
And the architecture and history is exciting.
In what other countries have you been performing?
All over the world. Almost every country in the world we performed, on cruse chips or casinos, everywhere. That's one of the true blessings of our magic is that we been blessed to use our art form, and it's taking us, it's giving us the opportunity to travel and see the world and meet so many wonderful people.
We just did three and a half years in Asia, so that was a nice break in Asia, in Japan, Malaysia and China, all that, and so it was so nice break to come back to Europe, and last year we were here on the Viking Line, witch we enjoying very much. We have travelled to many countries.
It's a big list. A long list.
What do you like most doing magic?
I think the reactions of people from all over the world, everybody likes and enjoys the magic. And to be able to remind adults how magical this world is, and maybe touch the child in their hart.
That's very gratifying.
Do you do tricks with animals?
We used to, now not so much now because we travel. It can be difficult to travel with animals.
Have you been performing with other magicians?
Yes, as a matter of facts, especially at home in California, we do a lot of shows with other magicians involved.
Have you been to any magic events?
Yes, at home in California we are very close to the magic castle in Hollywood California, and every night it's an event there.
It's a private club for magicians and their friends.
Do you think that you will be doing magic forever?
Yes, the whole life, in one capacity or another, for sure.
Do you watch other magicians?
Yes we do, especially one more at home. Sometimes other magicians we work with and calibrate with another magicians and help them with their shows and they help us with our shows. Yes, it can be a collaboration, sometimes magicians can be a collaboration of a lot of intellection magicians working together.
How many times have you won magic contests?
Because we travel so much, when I was younger, there was collaboration again at the magic castle, but I currently be awarded five Guinness World Records for high speed, coin manipulation, and resently I was called the real Harry Potter by the legendary Hollywood box office magazine, so because of all traveling and the amount of work, we don't perform many magic conventions or contests, because we're always performing. A big part of magic for us is we have a make of living, so we go and we perform.
Have you heard about any Swedish magicians?
Yes, as a matter of fact there use to be a wonderful place here we called the Magic Bar, and is was right here in Sweden, in Karlaplan. It's not there anymore, but we are still dear friends with the owners of magic bar, and one night we did a special show there, after we finished a contract, all the magicians from Sweden came to visit us. Many of the Swedish magicians are very wonderful nice people.
Popcorn or mushrooms?
- Popcorn (him)
- Mushrooms (her)
Watching magic or go to the movies?
- Go to see movies.
- Yes, but when we're in Las Vegas we'll go and see magic.
Parrot or dog?
- Dog
- Dog
Fish or pizza?
- Fish
- Fish


and kit a cats for be my happens on animals, kit a cats. We had a kit a cat that we had in a show, it was a big white Persian, than we produce a dance, many years ago.
14:47 AVSLUTANDE INFORMATION PÅ ENGELSKA
Tillbaks till Erica